Great architecture combines aesthetics with practicality — it serves as inspiration, comforts us and makes us more productive. Design the future you want to live in with an architecture course.
We'll help you realise your creative potential as you develop your design skills and knowledge. You'll embrace digital innovation, environmental sustainability, ethics and spatial awareness while using state-of-the-art digital technologies in your projects.
An advancing society needs structures that look to the future. When you study architecture, you'll graduate with an understanding of how to design buildings that promote sustainable living, flexible work and beautiful design.
You'll be equipped to enter the global workforce in architecture roles for private and corporate architecture firms, government organisations or development organisations in the building and design sectors.
MEET US @ OPEN DAY
Sunday 31 July, 10am – 4pm
Hawthorn campus
We're back and bigger than ever. See Swinburne up close and personal – with talks, tours, demos, hubs, and more – this Open Day.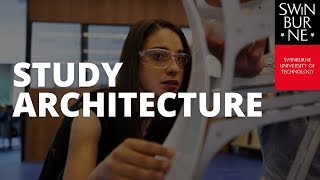 From Swinburne studio to global engineering and design company
An undergraduate degree must be about more than just knowledge – it's also job readiness, professional experience and access to further opportunities.
We partner with leading Australian and global organisations to offer students authentic workplace experiences. Our degrees can include placements, internships, industry-linked projects, study tours and more. This is your chance to work on real-life projects, solve day-to-day challenges in your field and gain the professional skills that put knowledge into practice. You'll build invaluable skills and confidence, knowing you have what it takes to land a job by graduation or even before.
SCHOLARSHIPS

Master of Architecture and Urban Design

You could score a scholarship in the groundbreaking new joint Master of Architecture and Urban Design at Swinburne.

The first course of its kind in Australia, the joint master is designed for urbanists who want to push the traditional boundaries of each discipline and will feature live briefs from industry partners.

To celebrate the launch, Swinburne is offering scholarships to inaugural students.

QUALITY EDUCATION

The Good Universities Guide 2019

Swinburne is rated Victoria's best "overall experience" by undergraduate architecture students in The Good Universities Guide 2019.

Undergraduate architecture students also ranked Swinburne second in Victoria for "teaching quality" with a score of 80.3%.


Interested in joining Victoria's best undergraduate architecture experience?

How to become an architect

As an architect you can design the future you want to live in. There's just one question… how do you become an architect? 
Download a course guide

Thinking of studying with us? Whether you are a domestic or an international student, we have a wide range of courses to suit your needs. Simply complete the form to download your course guide.

Got a question?

Speak with our friendly team and book a one-on-one appointment

Course planner

Begin planning the units you will study in your course.

Work Integrated Learning

Graduate with real industry experience you can put on your resume by taking on Swinburne's Work Integrated Learning and workplace training programs.