Getting started at Swinburne
Are you a new student to Swinburne? Welcome! All the vital information you need to help you get started at Swinburne and settle into university life is on this page.
From finding your way around campus to setting up your student email, here is all the information you need to settle into university life and get started at Swinburne. You can also find information on our free Strategies for Success workshops that will help you meet the academic demands of university.
Student email, password and Wi-Fi access

Set up your Swinburne student email, learn how to reset or change your password and connect to our secure wireless network eduroam.

Swinburne locations

We have three campuses based in Melbourne, located in Hawthorn, Croydon and Wantirna, and one in Sarawak, Malaysia. Learn how to navigate your campus and discover what's close by.

Your student ID card and Swinburne login

Your Swinburne student ID card gives you access to services and facilities on Swinburne campuses. It's also your library card and identification for exams.

Student systems, hardware and software

Swinburne has a wide range of student systems, applications and software you can use to help with your studies including the Adobe Creative Cloud and Microsoft Office 365.

Library

Need to borrow textbooks or book a computer? We have you covered. The Swinburne library provides a wide range of services for our students and operates across three campuses.

Orientation

Orientation helps you get started at Swinburne and settle into university life. During orientation we will provide you with handy tips and resources to help you prepare for study.
What student discounts are available?
As a Swinburne student, you get heaps of discounts and concessions to choose from, including discounted travel, health and legal services. Who wouldn't want 50% off their MYKI card? Make the most of the discounts available to you while you're studying.
Learn more
Need to update your personal details?
If your name, address or residency status has changed you need to let us know. Find out how to keep your personal details updated below.
Find out how
Additional resources
Student support services

Need support? Swinburne's student support services can help with your studies, career, health and wellbeing, accommodation, child care, IT, safety and more.

Your safety at Swinburne

We've worked hard to create a safe, accepting and vibrant community to ensure Swinburne remains a place where everyone can feel confident and respected — and we aim to keep it that way.

Health and wellbeing

We offer comprehensive professional health and medical services to support the mental, physical and emotional wellbeing of the Swinburne community.

Support for international students

We understand that living and studying away from your home country can be challenging. Find out more about living in Australia and how our international support team can assist you.
studentHQ – up late when you are
At Hawthorn campus, this service is now available 7 days a week until midnight during peak semester time – that's more than at any other Australian university! And don't forget: Latelabs are available at all campuses for all our students.
studentHQ is your go-to for any questions about your studies at Swinburne and any on-campus help you might need. Head into any branch of studentHQ for assistance from the friendly team.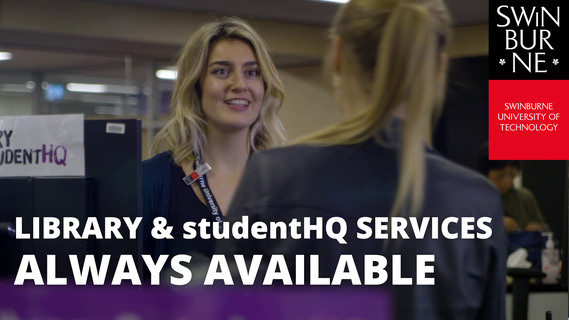 Library and studentHQ services - Always available
Strategies for Success workshops
Transitioning to tertiary study can be daunting. That's why we offer Strategies for Success workshops to equip you with the necessary skills and knowledge to tackle the academic demands of university.
Open to all new and current students, Strategies for Success is a series of special multi-day workshops offered as part of orientation each semester. It's designed to give you the strategies to succeed, so you feel better prepared when classes commence and can enjoy your university experience as much as possible. 
©
Students attending the Strategies for Success event.
The program is run across three days and is held two weeks before the commencement of classes. New students and those who are 'at risk' are strongly encouraged to attend to help boost your confidence and improve your academic performance.
Topics include:
What skills do I need to be a successful student?
How do I get and stay motivated?
How do I balance study, paid work, family and leisure time?
How do I get the most out of my lectures and tutorials?
What academic support services are available?
How you will benefit:
build valuable skills to help you if issues arise during your studies
receive specific study requirements relevant to your faculty
opportunity to meet other students in your faculty
introduce you to a suite of support services including, academic development consultation services, language and academic skill support, student mentor activities; and careers guidance.
In recent years, students who attended the Strategies for Success program received an average mark 4–5% higher than students that did not. 
Strategies for Success program schedule
Whether you're coming to Swinburne from secondary school, overseas, vocational education or returning to study, Strategies for Success is open to all students.
Strategies for Success
Monday 15 – Wednesday 17 February | Daily 1 – 5pm AEDT
Whether you're starting uni for the first time or would like some additional tips and strategies to help you ace your studies, this three-day virtual workshop will provide you with the key tools to succeed at university. Includes live sessions and self-directed learning modules.
Strategies for Wellbeing

Thursday 18 February | 1 – 5pm AEDT
Learn some useful tips and tricks to help you through semester, including advice from a student panel in a live session. More information on self-care strategies, Peer Mentoring Program and support services at Swinburne are also available via the self-directed learning modules.
Access the program schedule, including the live and self-directed learning modules.
How to self-enrol into Strategies for Success
Existing students who are required to complete Strategies for Success can self-enrol here.
Expecting big things from Swinburne?
Great, we have a Student Charter for that! It's a university policy which defines what you can expect from us – and vice versa.
See how it works
Have a few questions about getting started at Swinburne?
Contact our friendly team at studentHQ and they'll be able to help you out.
Contact studentHQ