Tomorrow's Global Challenge – Sustainable Mumbai study tour
Explore Mumbai, India through the lens of sustainability and participate in the creation of a sustainable future through this study tour.
Key information
Locations: Mumbai, India
Eligible students: Undergraduate
Unit code:

MFP20005 or elective



Study tour overview
This tour will give you the opportunity to explore Mumbai through the lens of sustainability. The 2030 Agenda for Sustainable Development was adopted by all United Nations member states and this tour will zoom in on some of its goals such as Responsible Consumption and Production, Gender Equality, Sustainable Cities and Communities to name a few.
While "climate change" is a term appearing in many of today's conversations, it often leaves a silent echo of unachievable. Sustainable Development Goals aim to provide concrete areas of actionable improvement and students will have the chance to witness and participate in creation of sustainable future that resonates with modern-world values.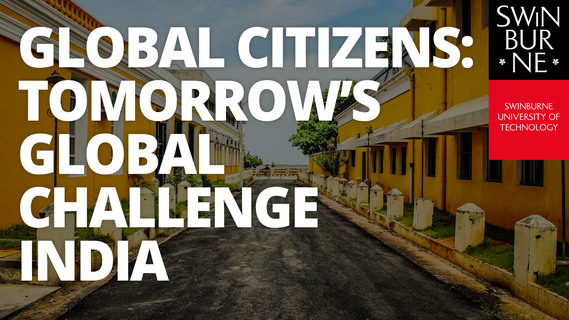 Tomorrow's Global Challenge – Sustainable Mumbai (India)
Benefits
If you've always been curious to experience the sweet taste of India, this tour is for you. After you return, your perception of everyday life will not be the same.
Witnessing the transcultural parallels and challenges that lay hidden under the lid of linear economy, your values and motivation (whether your field is business, law, engineering, design or medical sciences) will be powered by the desire to contribute to a different world where sustainability is not just a phrase, but an everyday matter of course.
And if that isn't enough, be aware that trade between Australia and India is booming (over $30.4 billion in 2019) and that Mumbai with its 18 million people could become your future career destination.
Highlights/tentative itinerary
You will have an opportunity to gain on-location access to experienced professionals in the business areas connected to sustainable development such as Australian and Indian government representatives, NGOs and charity organisations, universities, Swinburne alumni, local entrepreneurs, policy decision makers, and Dharavi community.
You'll also be given time to explore the cultural and historical side of Mumbai with its increasingly global art scene, and sites such as Gateway of India, Chhatrapati Shivaji Terminus railway station, Haji Ali Dargah shrine, Elephanta Island or the famed Taj Mahal.
© Seb_c_est_bien
Program cost includes:
Accommodation
Tour of Mumbai/day trip
Tour Guide
Travel Insurance (subject to eligibility)
Some in-country transport costs
Additional expenses to consider (not included in program cost):
Academic unit fee
International airfares
Most meals
Entertainment
* Program cost is approximate at the time of being listed online and is subject to change.
An OS Help Loan of up to A$8,295 (as at 2020) is available to help eligible students with the costs towards this program.
Information sessions
Register your interest to learn more about this study tour and to be kept updated on upcoming information sessions.
Join us on the next tour
Register your interest to join us on the Tomorrow's Global Challenge – Sustainable Mumbai study tour and we'll get back to you with the next steps.
Register